QA1 Pro Series Upper Ball Joints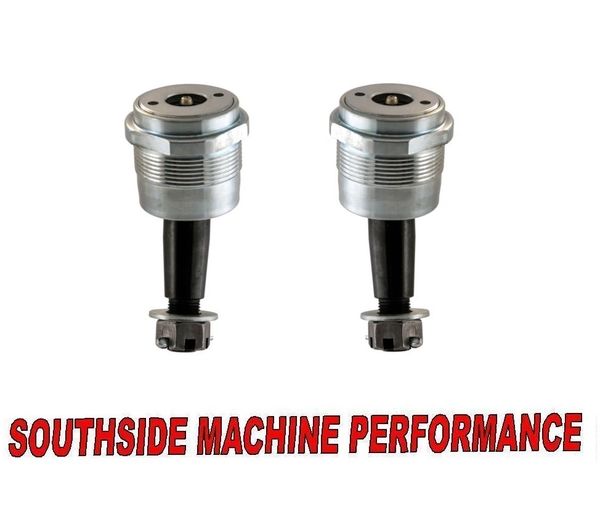 QA1 Pro Series Upper Ball Joints
Southside Machine Performance Pro Series arms use a hybrid style QA1's Screw-In Style Ultimate Ball built to fit the S-10 and G-Body spindles. These are 1" Taller than factory and create a negative camber curve.This patented, self-lubricating design is 100% owner rebuildable and is exclusive to QA1. Ultimate Low Friction Operation - Infinite Preload adjustment allows breakaway torque to be set as low as 0 ft. lbs. for a completely smooth, bind-free operation. Wear Resistant Design - Precision tolerance ball-to-race conformity results in even load distribution for unsurpassed wear resistance.
Precision ground 52100 bearing steel race ensures long life and ultra-smooth operation. On-the-Car Adjustability - Infinite preload adjustment. No need to remove the ball joint from the car for adjustment. Self-Lubricating - Fully greasable enhanced by self-lubricating components to ensure smooth operation. - Owner Rebuildable - Rebuilding is simple. All parts are replaceable at economical prices.
Custom Built In Our Shop!
Steel Cap

Screw-In type housing

10° Taper

Completely Rebuildable
Why Front end Geometry is Needed
If you want to improve the handling of your ride, you must first understand what is wrong with the original geometry. From the factory, these cars were designed to understeer. To make them do this, they used a very short spindle with the upper A-arm at a steep downward angle, which results in a backward camber curve making the tires lean out of a turn, using only the edges of the tire. Not only is this bad for mechanical grip, it's also why every stock Chevelle, S-10 or G Body wears the outside edges of the front tires. Below is a diagram of the stock geometry at rest, and then in a hard turn. Notice the severe angle of the tires. All of the cornering forces are placed on a very small area of the tire.
To deal with this problem, there are several things that will help. Simply lowering the car will help to some extent, but not nearly enough to correct the whole problem. Bigger sway-bars will reduce the amount of bad camber gain, but again, it's not enough... it's like a band-aid on a gunshot wound.
To fix the bad geometry, you need a taller effective spindle height. The "effective height" of a spindle is from the pivot center of the upper balljoint to the pivot center of the lower balljoint. Tall spindles with stock balljoints, or stock spindles with extended balljoint studs will both achieve this goal.
Below is a diagram of the same car equipped with a taller effective spindle height. Notice that the tires remain near vertical using the entire tread evenly across its contact patch. This is key to getting the most grip, and life out of your tires.
The 1" EXTRA tall upper ball joints reverse the backward factory camber curves for a huge increase in grip. They also raise the extremely low factory roll center to dramatically reduce body roll.
For drag racers SSM Stage 1 Plus allows faster weight transfer and more positive caster for better top end stability.
For lifted cars this radically corrects poor ball joint angle and helps the arm clear the frame when lifted properly.
The low-friction ball joints are legal for classes that require non take apart joints or OE style joints. Additionally, all low-friction ball joints have 32 degrees of swing angle for maximum suspension travel and contain no springs or plastic parts. Dust boots are not included but available at your local auto parts store if wanted. Dust boots can retain dirt and also hinder visual inspections. You get 2 extra tall upper ball joints in this kit.
1978 - 1988 Chevrolet Monte Carlo, Malibu, El Camino
1978 - 1988 Buick Regal, Grand National
1978 - 1988 Pontiac Grand Prix, LeMans
1978 - 1988 Oldsmobile Cutlass
1982 - 2002 2WD Chevrolet S-10 And S-15