GDAK-P Double Adjustable Control Arm Kit GM G Body 1978-1988 with Poly Lower Bushings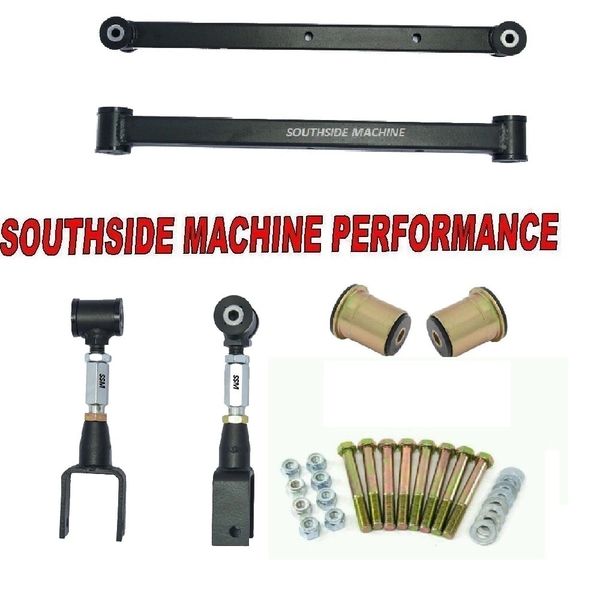 GDAK-P Double Adjustable Control Arm Kit GM G Body 1978-1988 with Poly Lower Bushings
Southside Machine Double Adjustable Rear Suspension kit includes a set of tubular rear lower control arms and a set of double adjustable rear upper control arms. This control arm kit is a direct bolt-on replacement designed to minimize wheel hop, improve corning and help track consistency on your vehicle. Stock control arms are on the borderline of junk, bushing deflection and rusting weak stamped material add for traction loss and poor handling ability. Whether your car is a weekend cruiser or weekend track addict this kit works on all applications. Lower control arms feature greaseable bushings, fully boxed and welded construction for the most in strength and correct provisions for adding a stock or aftermarket sway bar. The included double adjustable upper control arms allow you to adjust your vehicles pinion angle and recenter the rearend while on the car for optimum performance, precise handling and improved traction. Adjustable upper control arms are constructed of CNC machined 0.250" steel mounting plates, DOM tubing and heavy duty Rebuildable poly bushings to handle the most severe abuse you can throw at them.
<!--?xml:namespace prefix = o ns = "urn:schemas-microsoft-com:office:office" /-->
These are truly overkill! All grade 8 hardware is included. Made in USA.
78-88 Pontiac Grand Prix
78-87 Buick Regal
78-87 Chevrolet El Camino
78-83 Chevrolet Malibu
78-88 Chevrolet Monte Carlo
78-87 GMC Caballero
79-81 Oldsmobile Cutlass
78-81 Pontiac Lemans
78-87 Buick Grand National