12BSK-S 12 Bolt swap Kit with Double Adjustable Upper Control Arms and Solid lower bushings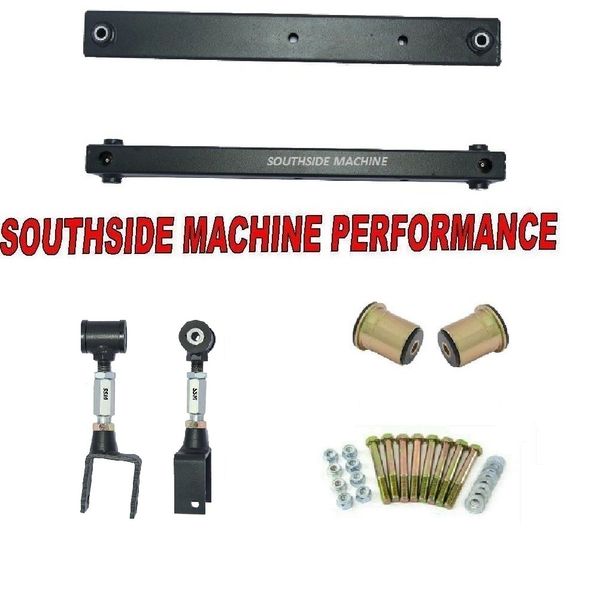 12BSK-S 12 Bolt swap Kit with Double Adjustable Upper Control Arms and Solid lower bushings
Now our Solid Bushed Racing lower arms feature a "street friendly" twin pivot bushing that allow for articulation without the bind.




These control arms are supplied adjustable for easy on-car adjustability to set correct pinion angle and allow adjustment for installation if needed. Adjustments are made using an aircraft quality 4140 Chrome Moly adjuster with included Poly Bushings.

T

hese control arms from SSM Performance are designed to bolt a 1964-1972 GM A-Body 10-Bolt or 12-Bolt rear end into a 1978-1988 GM G-Body; this includes Monte Carlo, Malibu, El Camino, Regal, Grand National, Grand Prix and Cutlass. These upper control arms are built at the correct angle to attach to the G-Body chassis as well as the A-Body rear end "ears". These control arms are a must any time this swap is being completed. Using factory control arms will cause drastic rear end bind and incorrect driveline angle, this leads to traction lose, vibrations and unsafe handling. 



Southside Machine Sport Suspension kit includes a set of tubular rear lower control arms and a set of adjustable rear upper control arms. This control arm kit is a direct bolt-on replacement designed to minimize wheel hop, improve corning and help track consistency on your GM "G" Body vehicle. Stock control arms are on the borderline of junk, bushing deflection and rusting weak stamped material add for traction loss and poor handling ability. Whether your car is a weekend cruiser or weekend track addict this kit works on all applications. Lower control arms feature solid greaseable bushings, fully boxed and welded construction for the most in strength and correct provisions for adding a stock or aftermarket sway bar. The included adjustable upper control arms allow you to adjust your vehicles pinion angle and recenter the rearend for optimum performance, precise handling and improved traction. Adjustable upper control arms are constructed of CNC machined 0.250" steel mounting plates, heavy wall DOM tubing and heavy duty poly bushings to handle the most severe abuse you can throw at them.
The lower control arm mounts will need to be re-drilled (elongated and welded) if you do not chose to replace the lower mount with our instant center relocation bracket.
Instant Center Relocation and Why It's Needed
The basic information regarding instant center is the same for all cars, but for this discussion, we'll focus on the factory-designed four-link system. The instant center (IC) is an imaginary point defined by extending the line of the upper and lower control arms forward until the two lines intersect. By changing the locating points of either the upper or lower control arms, the IC can be moved longitudinally (fore-aft) as well as vertically. Moving the instant center closer to the rear of the car reduces the leverage on the rear axle, reducing and eventually eliminating the car's tendency to squat. There are two basic ways to change a Chevelle's IC position. The OLD SCHOOL "No Hop" bars relocate the rear-axle mounting point of the upper control arms higher, which shortens the IC but typically too much. The popular approach is to drop the lower rear mounting point of the bottom trailing arm but. This is the approach taken by SOUTHSIDE MACHINE PERFORMANCE WITH OUR 4 HOLE RELOCATION BRACKETS.
As the instant center is moved toward the rear by altering the upper or lower control-arm mounting points, this has an effect on tire load, or the "hit" on the rear tire. If you are using a sticky rear tire like a wrinkle-wall M/T E.T. Street or a pair of slicks, moving the instant center rearward will apply more leverage to the rear suspension, reduce the squat, and take maximum advantage of the wrinkle-wall tires. If a set of stiffer-sidewall drag radials are used, positioning the instant center back from its stock location--but not as far back as for a wrinkle-wall tire--would be beneficial.
The height of the instant center will also move as you reposition the control arms, and this affects average tire loading on the rear tire. If you draw an imaginary line between the tire contact patch to the car's center of gravity (CG), this is the 100 percent antisquat line. If the instant center is located above this line, antisquat will be more than 100 percent, while an instant center below the line is less than 100 percent antisquat. Theories abound on the proper location of the instant center, and this will change based on power, tire condition, track conditions, and perhaps a dozen other variables. This is just a hint of what you can learn about instant centers and traction. If you're into maximum traction, there's a ton of material to learn about putting the power to the ground.
These are truly overkill! All grade 8 hardware is included. Made in USA.
78-87 Chevrolet El Camino
78-88 Chevrolet Monte Carlo
78-87 Buick Grand National
Photo is not actual product. Parts are specially built for the swap.